Scaryann1's battle with eating and EDS (Ehlers-Danlos Syndrome)
06-24-2019, 01:39 PM
(This post was last modified: 06-24-2019 01:40 PM by scaryann1.)
scaryann1
Member


Posts: 92
Joined: May 2016
Reputation: 0
RE: Scaryann1's battle with eating and EDS (Ehlers-Danlos Syndrome)
Wow guys, life really caught me unaware!!! I'm so sorry to have been gone for so long. I'm still here and still plugging away. Rick and I have turned our chainmaille into a very slowly growing business, so my days have been spent weaving chains and building our business. I'm sad to say that I fell right back into my old ways of eating and by the time I took time out from my schedule to see how I was eating, I was right back to around 1200 calories a day. So I'm back to working on keeping a good eating schedule and trying to keep up. LOL
I got an AFO (Ankle-foot orthotic) in January, it's AMAZING! I can walk again!!! But, now it's pushing the pain farther up my leg into my knee and hip, but I'm not giving up. I'll get fully on my feet again. I'd be totally insane by now if it wasn't for my chainmaille though.
My new AFO: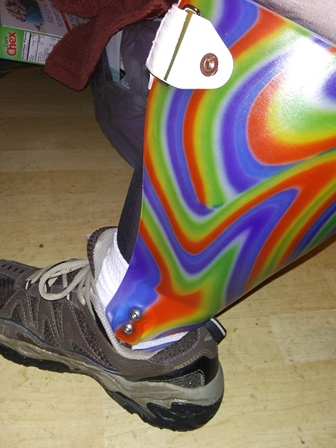 My dreamcatcher design:
https://us.v-cdn.net/5021879/uploads/edi...t2r4cl.jpg
Well, got to run. Lots of things to get done before the market on Saturday!
User(s) browsing this thread: 1 Guest(s)